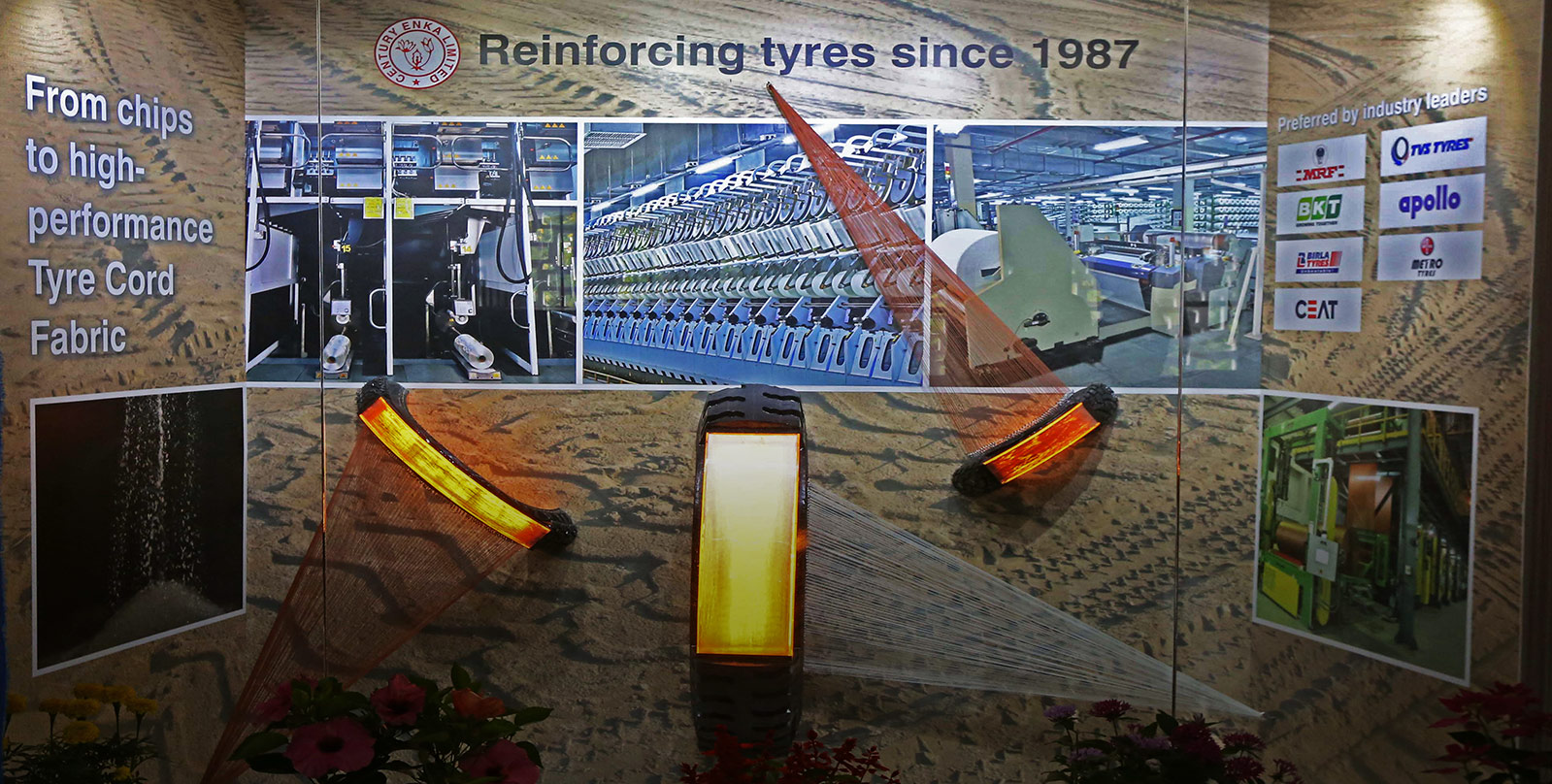 Nylon Tyre Cord Fabric
Century Enka provides high quality Nylon tyre cord fabrics for reinforcement of tyres which are used in motor cycles, scooters, light commercial vehicles (LMVs), heavy commercial vehicles (HCVs) and off the road (OTR).
About Nylon Tyre Cord Fabric
Nylon Tyre Cord Fabrics (NTCF) are used as reinforcements in tyres to give them strength and durability. They provide shape to the tyres and support the weight of the vehicle. They are designed to keep tyres running longer and have significant effect on the performance of the tyres.

High Tenacity Industrial Yarn

Greige Fabric

Dipped Fabric
Sub-products of Nylon Industrial Yarn & Tyre Cord Fabric


Dried chips fed into a melt spinning machines. The molten polymer is filtered before entering the spinneret (a wheel or plate with many tiny holes) to form yarn of different linear density as per specifications. Fibres of different length and thickness are made by using holes of different diameters and drawing them out at different speeds. The filaments are coated with water & oil to ensure dimensional stability, then they are air quenched and solidified, offering outstanding tensile strength and low shrinkage under heated conditions, as well as high elasticity. The yarn thus formed is further stretched 3-4 times its original length so its macro molecules lie parallel to the length of the fibre, and this offers full strength.



Cord material is taken into the warp and interlaced with cotton or poly-cotton weft to produce reinforcing material for a wide variety of uses.

Denier
840/2
1260/2
1680/2
1890/2
2835/2
EPI:
14 and above
Width: 140 — 167 cms
Length: Max 4000 meters


Greige fabric has very poor adhesion to rubber. Therefore, it is impregnated with an RFL (Resorcinol - Formaldehyde - Latex) solution which acts as a bonding agent between fabric and rubber. The dipped fabric is hot stretched to reduce the effect of thermal shrinkage in a process known as heat setting. It is passed through different ovens to create adhesion with rubber, thus imparting dimensional stability. Dipped, heat-set fabric add high strength and adhesion, fatigue resistance and impact resistance.

Denier
840/2
1260/2
1680/2
1890/2
2835/2
EPI:
14 and above
Width: 140 — 167 cms
Length: Max 4000 meters